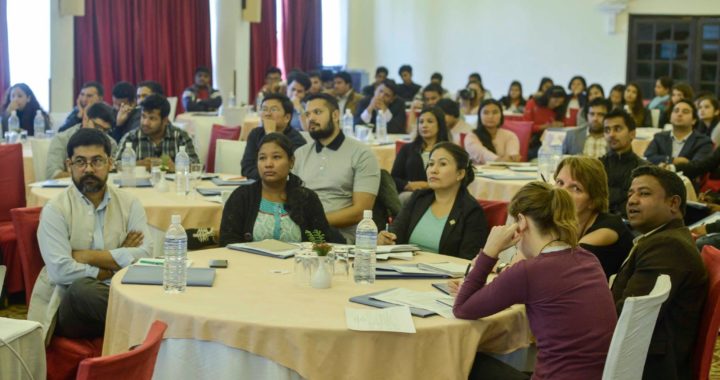 Open Discussion on "Social Media, Youth and Political Participation"
Center for Media Research Nepal (CMR-Nepal),, with support from FES-Nepal, organized a discussion program on Social Media, Youth and Political Participation on 29th October, 2017 in Lalitpur. The discussion program aimed to explore and identify issues and trends of youth using social media for political participation. It also aimed to exchange experiences of social media uses and discuss and identify strategies for effective use of social media by youths for their political engagement.
The program was participated by more than 70 youths from different sectors including youth politicians, activists, social media users, advocates, entrepreneurs, academics, and journalists.
The program was divided into four segment: a) Inaugural session b) Paper Presentation c) Panel Discussion and d) Open Discussion.
Inaugural Session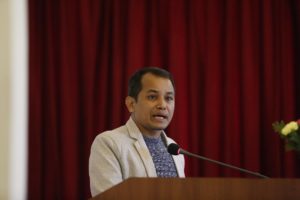 CMR- Nepal Chairman Mr. Bhuwan K.C. gave a welcome remark. He highlighted the importance of social media and its use by the youth in political participation. He outlined that social media was posing a challenge to the traditional media. K.C. shared his experience about the low engagement of youth in using the social media for political discussion. In his opinion, there are some positive efforts initiated by the youths in using social media for the social campaign and engaging their participation.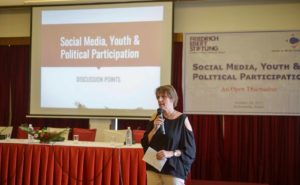 FES Nepal's Resident Representative Annette Schlicht shared her experiences about political participation and involvement of youth. Schlicht observed that discussing political issues it dealt with political complaints about political leadership concerning behavior, attitudes, and actions. She also found that young people under 30 in Nepal do participate in the program but they are not much engaged in the discussion. Schlicht outlined the challenges that young leaders would face with respect to accountability, transparency and good governance.
Paper Presentation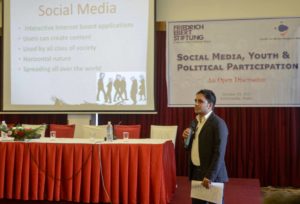 Two papers were presented on "Social Media, Youth and Political Participation". Presenting the paper on "Using Social Media for Political Participation How are youth engaged?", Bishnu Pokharel explored on the international trend of use of social media by youths. Pokharel explained that social media has been used as a major tool for political participation, help organise political movements and shape narratives.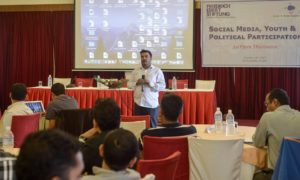 Likewise, social media expert Ujjwal Acharya presented the paper on "Social Media Youth and Political Participation." Acharya dealt with the challenges posed by social media and presented the points for discussion. He outlined digital divide, misinformation, slacktivism, converting online activism to offline action, defamation and indecent content portrayal in social media were main challenges that need to be tackled.
Panel Discussion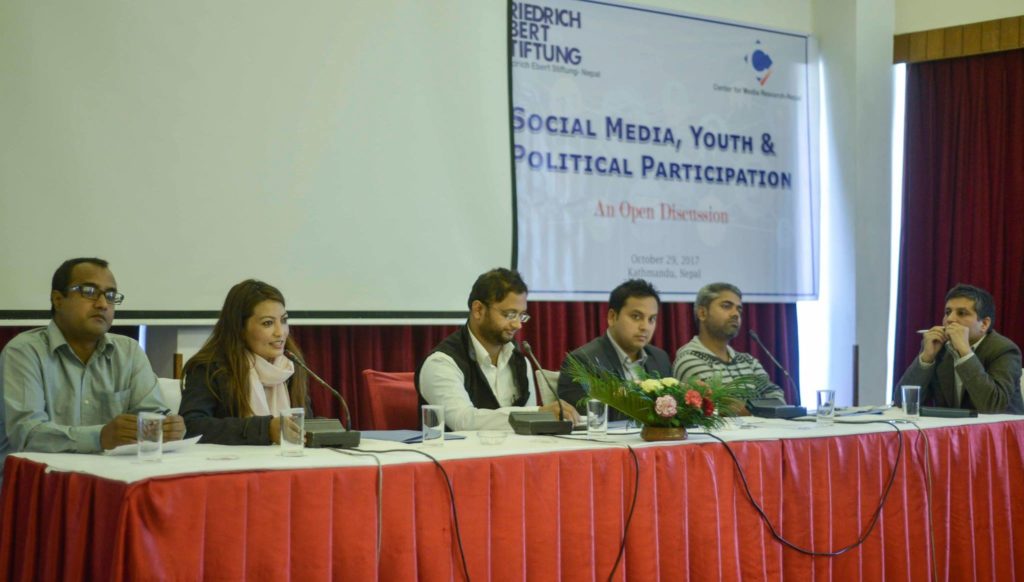 The panel discussion was with youth political leaders. The panel discussion was followed by question and answer from the participants. The panel discussion was participated by Suresh Mandal, leader of Rastriya Janata Party (RJP), Sagar Pariyar- VC Chairperson of Nepal Student Union (NSU) a student wing affiliated to Nepali Congress, Milan Pandey, youth leader and candidate for upcoming election of Bibeksheel Sajha Party, Nabina Lama, Chairperson of All Nepal National Free Students Union (ANNFSU), a student wing affiliated to CPN-UML, and Dr. Jeevan Baniya Political Expert and researcher at the Social Science Baha.
The panel was moderated by Tilak Pathak, the associate editor of Nargarik Daily. The panel discussed on different dimension of use of social media by political parties leaders and their engagement in the medium.
Open Discussion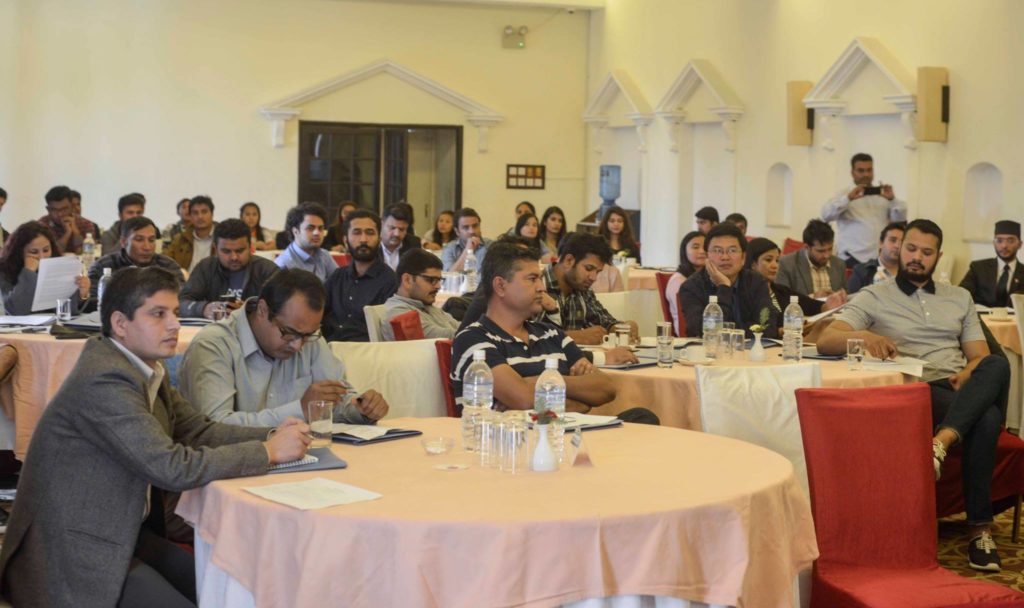 Chiranjivi Bhandari, Lecturer Tribhuvan University, Nitu Pandit, Sancharika Samuha Vice President and Journalist, Rajesh Luitel (Active social media user), Saugat Gautam (Voices in Crises), Prabin Subedi (Lawyer), Barun Ghimire (Lawyer), Manoj Satyal (Journalist), Mukunda Nepal (Communication Sector),  Chandan Gupta (IT), Binaya Guragain (Active Social Media Users), and Trishna Acharya (Media Educator) shared their opinions and perspectives after a table discussion between the participants.
For photos from the discussion, click here.