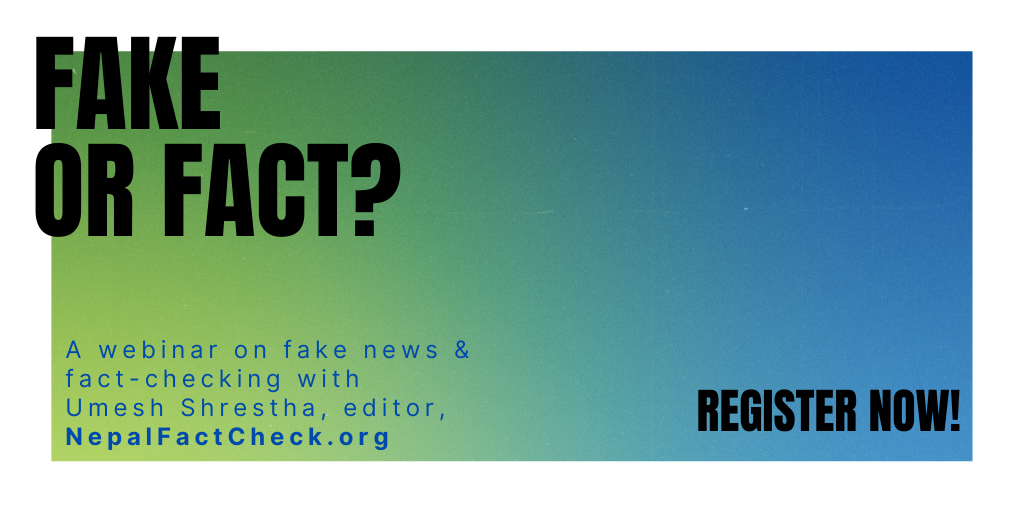 Announcing webinar series on disinformation and fact-checking
CMR-Nepal will host a series of webinars 'fake or fact: disinformation and fact-checking' to raise awareness among the general public on the issue.
The webinars, the first of which will be on September 6, are free to attend and are targeted to journalists and the general public.
Umesh Shrestha, editor of NepalFactCheck.org and a member of CMR-Nepal, will hold the webinars.
The webinar will cover the following topics:
Introduction to fake news, misinformation, and disinformation;
Impacts of disinformation to politics and society;
How to identify disinformation;
Do's and dont's about information online; and
Simple tools and techniques for quickly verifying information online.
The registration is here.
List of Webinars (updated as they happen):
September 6, 2020, 5PM to 7PM, 35 participants
September 22, 2020, 7 PM to 8PM, 15 participants
February 13, 2021, 7 PM to 8 PM, 15 participants