CMR Chair Pathak Receives NED Fellowship
Tilak Pathak, the chairman of the Center for Media Research – Nepal (CMR-Nepal), has received the Reagan-Fascell Democracy Fellow Program 2015-16 offered by the National Endowment for Democracy (NED).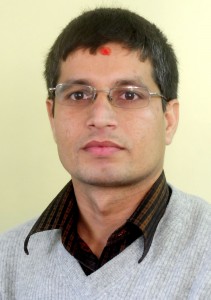 Pathak will spend 5 months (October 2015 to February 2016) in Washington, DC, USA working on a project "Promoting Financial Transparency within Political Parties in Nepal". Pathak has worked as political correspondent and op-ed editors for top national daily newspapers and a magazine in Nepal throughout his journalistic career.
One of the founding vice-president of the CMR-Nepal, Pathak was unanimously elected chairman in 2013 and will continue the role until early 2016.
The Reagan-Fascell Democracy Fellows Program hosts democratic activists, scholars, and journalists for five-month fellowships, bringing fresh insights and perspectives to Washington, DC. The fellowship offers an important opportunity to explore new ideas in a comparative context, undertake individual research, and share best practices with one another.
CMR-Nepal family congratulates Pathak for the fellowship and wish him all the success in his project.