'Press Freedom in Constitution of Nepal 2015' released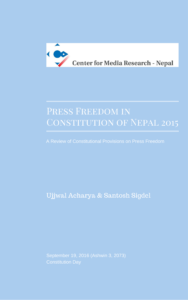 To mark the first year of the Consitution of Nepal 2015, the CMR-Nepal is releasing a new paper titled 'Press Freedom in the Constitution of Nepal 2015' by Ujjwal Acharya and Santosh Sigdel.
The paper reviews the provisions related to the press freedom in the new constitution. It concludes that the reasonable restrictions to the right to the opinion and expression, and the right to communication, and the provisions of the state of emergency, are vague in terming thus open for misinterpretations.
The author Acharya is a journalist and media researcher; and also the founder-chairman of the CMR-Nepal. Sigdel is an advocate specializing in human rights and having special interest in the civil liberties. Both are well known for their works on press freedom.
Download the report here (PDF) or in the Download / Resource section.