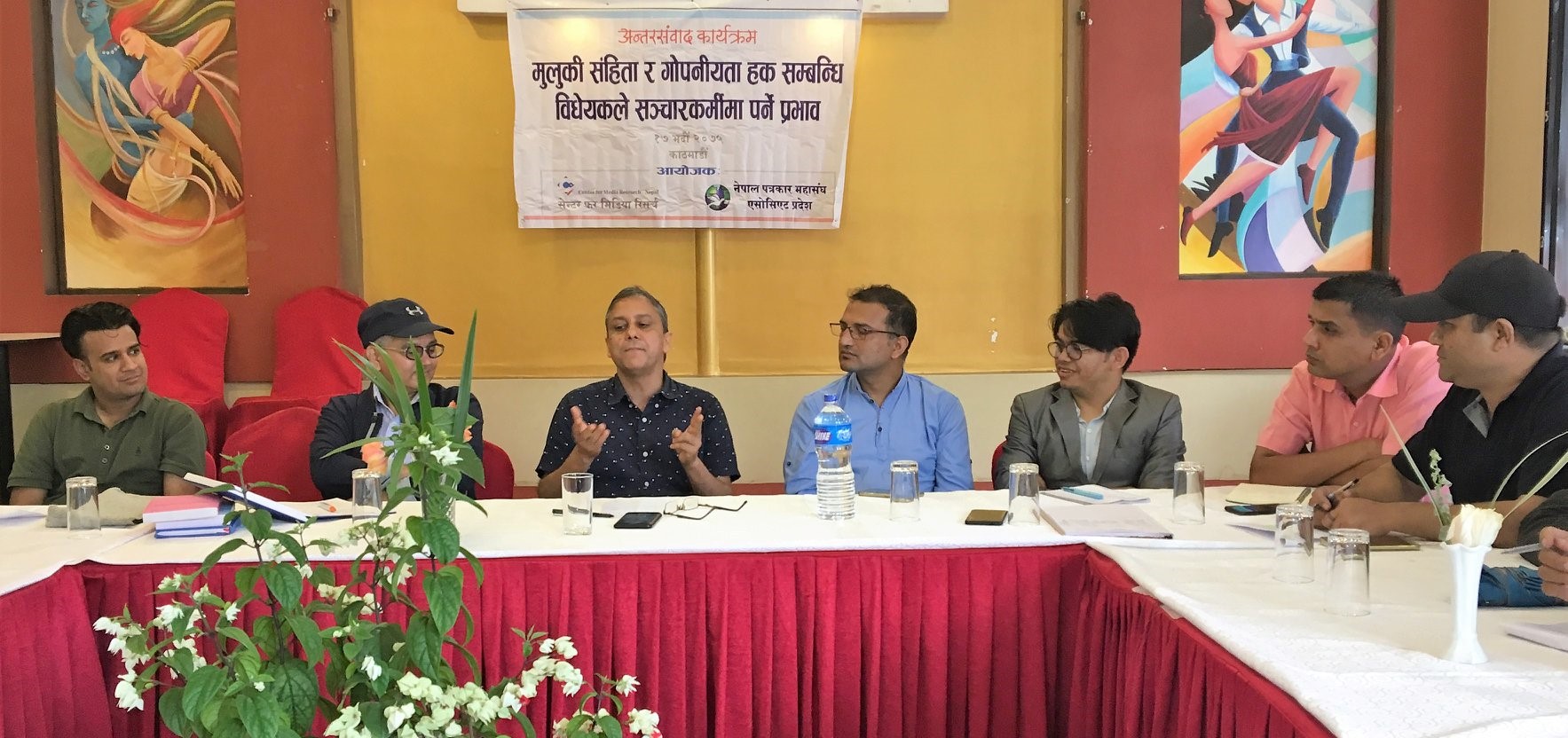 Privacy Bill, Criminal Codes, and their impact on journalism discussed
The Center for Media Research – Nepal (CMR-Nepal) organized an interaction program jointly with the Associate Committee of Federation of Nepali Journalists (FNJ) on September 2, 2018 in Kathmandu.
The FNJ's Associate Committee represents 11 different associate organizations that are member of FNJ, the umbrella organization of Nepali journalists, with more than 13,000 members. Journalists and legal expert shared their knowledge on the implementation of Criminal Code law and the bill on Right to Privacy.
Speaking at the program, former President of FNJ and the editor at the Center for Investigative Journalism – Nepal Shiva Gaunle warned that the implementation of provisions put forward by the Criminal Codes Act 2018 would kill the journalism that has been in practice in Nepal. He was of the view that the laws needed amendments with respect to defining public space and public authority, which remained the major problem in the law.
Senior Advocate Dr. Surendra Bhandary suggested studying overall provisions of different laws that affect freedom of speech in Nepal. He urged to bring all the stakeholders especially the parliamentarians, journalists and lawyers in one forum to lobby for the amendments.
Bhandary also saw other provisions in the Criminal Codes that could be used to curb press freedom. He pointed out that Section 58 of the Criminal Code which forbids to engage in pressuring the president and the parliament in any form, which could also be used to curb press freedom.
At the program, associate members of FNJ discussed their confusions with respect to the restrictive provisions while dealing with the issues of making of cartoons and film journalism. The experts were of the view that the journalists should create their own space and continue to write freely backed by evidence and proofs.
The program was participated by FNJ Associate Committee Chairman KP Dhungana, Smriti Dhungana and Prabhakar Gautan of Film Critic's Society of Nepal, cartoonists  Abin Shrestha, Devendra Thumkeli ad Rabi Mishra of the Cartonist's Club Nepal, FNJ Affiliate Committee chairman Shekhar Adhikari, Madhav Prasad Tiwari of Journalism Development Society, Bijay Ratna Tuladhar, Nawaraj Bhandari, Baikuntha Raj Prarajuli and Samir Balami of Film Journalist Association, Online Journalist Association of Nepal president Shiva Satyal, and Bishnu Thapa of South Asian Journalist Association (Nepal).
Read the excerpts from Shiva Gaunle's talk during the program here (in Nepali).