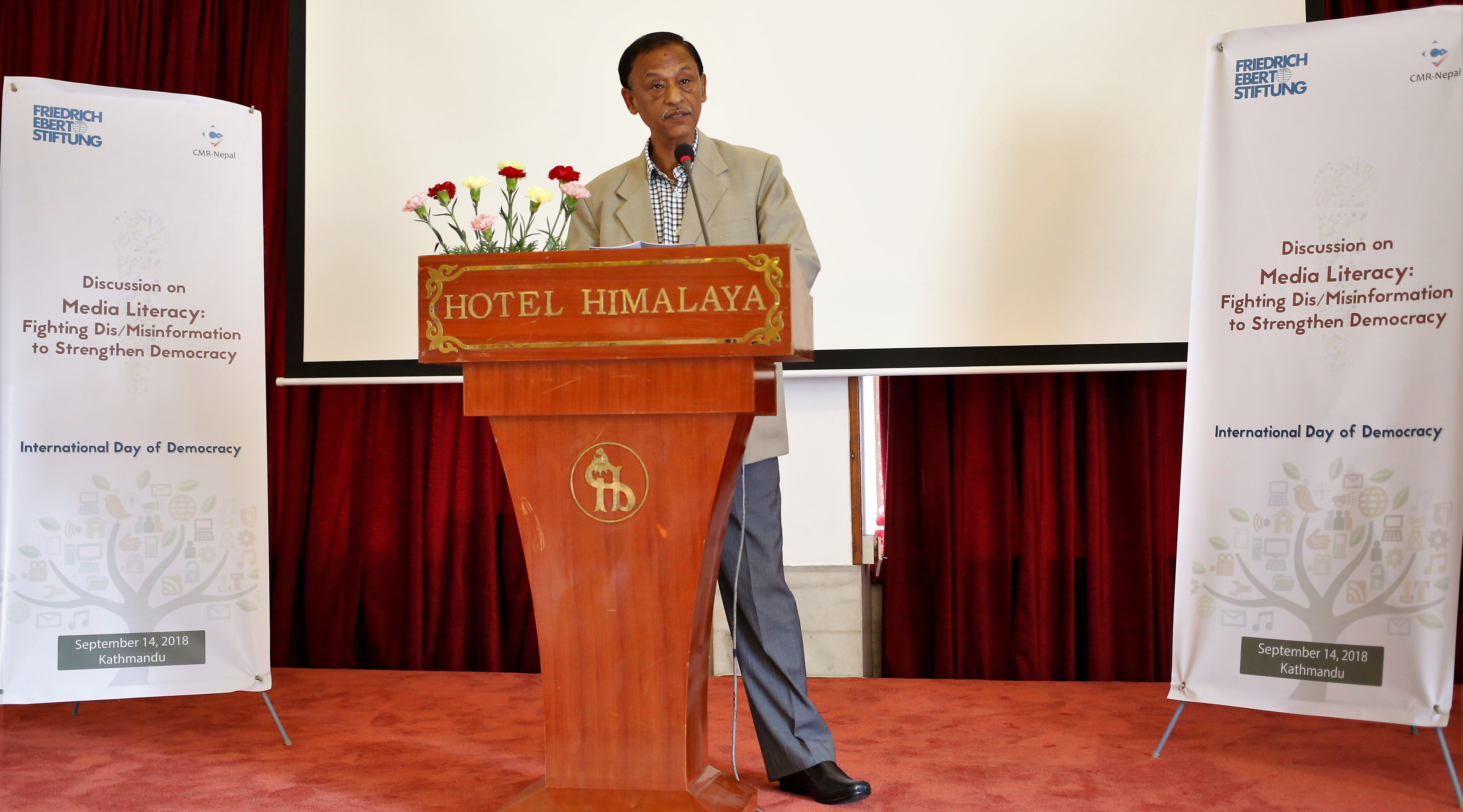 Media Literacy: Fighting Mis/Disinformation to Strengthen Democracy
To mark the International Day of Democracy (September 15), the Center for Media Research – Nepal, with support from the FES Nepal, organized a discussion on "Media Literary: Fighting Mis/Disinformation to Strengthen Democracy" at Hotel Himalaya, Kupondol, on September 14.
Journalism scholar Prof. P Kharel, in his keynote paper, outlined the relationship between media and democracy, the criticism of media in its role to strengthen democracy, the need of media literacy to fight misinformation and the experience of Nepal.
Prof Kharel said: "Nepalese journalism has suffers from reporting bias of many types, not just those brought about by a developing media sector, but also because of deliberate efforts by institutions to mislead the audience… The public needs to see leaders in their actual worth and not in the images built, doctored, or toned up by specialists."
Umesh Shrestha, the editor of Pahilopost online news portal and the Secretary of the CMR-Nepal presented national and international examples of the fake news, and mis/disinformation, and how those created impact on the society and politics.
Political scientists Prof. Meena Vaidhya Malla, former head of Central Department of Political Science of Tribhuvan University and Associate Prof. Dipak Gajurel shed lights on how mis/disinformation can impact citizens, society and politics of the country.
Assistant Prof. Rishikesh Dahal, head of the Department of Journalism at RR College and the vice-president of CMR-Nepal, moderated a open discussion session where participants, including journalists, lawyers, academicians and students, shared their opinions on media literary.
The event also marked the second year of partnership between CMR-Nepal and FES-Nepal.
Check out the photos of the event in our Facebook page.