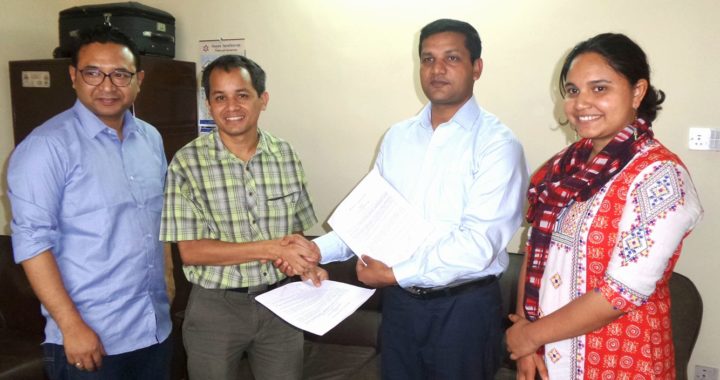 CMR-Nepal signs MoU with Dibyabhumi College for research collaboration
The Center for Media Research – Nepal (CMR-Nepal) signed a Memorandum of Understanding (MoU) with the Dibyabhumi Multiple College (DMC), an affiliate college of the Tribhuvan University, for the cooperation and support in academic growth and media research works.
CMR-Nepal chairman Bhuwan KC and DMC chairman Pramod Shah signed the MoU in presence of Programs Manager Ujjwal Prajapati and the Head at the Department of Journalism & Mass Communication at the DMC Trishna Acharya.
DMC runs the Bachelor's Program in Journalism and Mass Communication, affiliated to Nepal's oldest and largest university.
The MoU mentions that CMR-Nepal and DMC will share knowledge and expertise in media; and CMR-Nepal will provide DMC students opportunities to participate in its researches and activities as well as internships opportunities.
After signing the MoU, CMR-Nepal chair KC said: "The CMR-Nepal is always open to collaborate to support and advances media researches in Nepal. Such collaboration will definitely help to enhance the capacity of students in media researches and we are happy to initiate a new beginnings for the future prospects."
DMC chair Shah commented: "Collaboration and cooperation is key to 21st century academic and research activities as it helps students to turn their potential into excellence through enriched practical research skills along with theoretical knowledge."