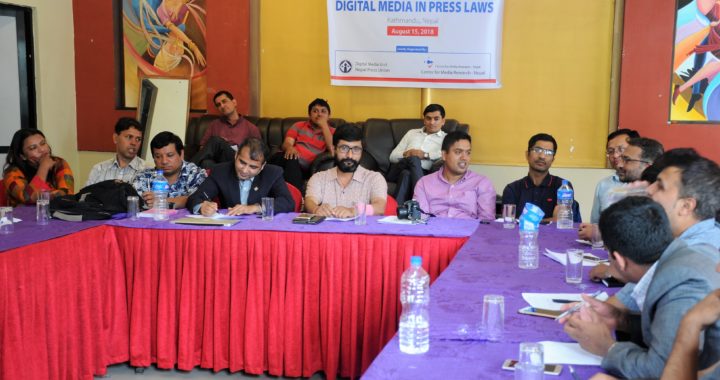 Interaction on 'Digital Media in Press Laws'
The Center for Media Research- Nepal (CMR-Nepal) jointly with the Digital Media Unit of Nepal Press Union (NPU) organized an interaction program on 'Digital Media in Press Laws' on August 15 in Kathmandu.
Journalist union leaders, journalists, and legal experts participated in the interaction and shared their experiences and problems with the digital media domain in Nepal.
Journalists expressed their concerns about the newly drafted laws that criminalized freedom of expression. They stressed on the need to decriminalize expression and try cases related to freedom of expression under civil law.
Nepal has introduced the Criminal Code Act 2017 that revised the Muluki Ain of 2020 B.S. which was passed by the parliament in October 2017. The law is applicable from August 17.
Media experts and journalists believe that the provision in the law leaves enough room for interpretation that could be used to prosecute investigative reporters, journalists, and cartoonists. The participants at the program pledged grave concerns, which they believe could affect freedom of expression at large.
Moreover, the digital media journalists have faced the brunt of the misuse of Electronic Transaction Act (2008), where many of the journalists are charged with criminal offense. The digital journalists argue that the provisions are discriminatory as digital journalists are prone to criminalization than other news media outlets journalists. They are of the view that the new media policies would further aggravate the situation of press freedom in Nepal.
The participants also pointed out the weakness on behalf of the news media and the advocacy body such as Federation of Journalists. They outlined the body such as FNJ should be proactive when the laws are in the draft form and should strongly lobby to abrogate the provisions that are discriminatory to the press.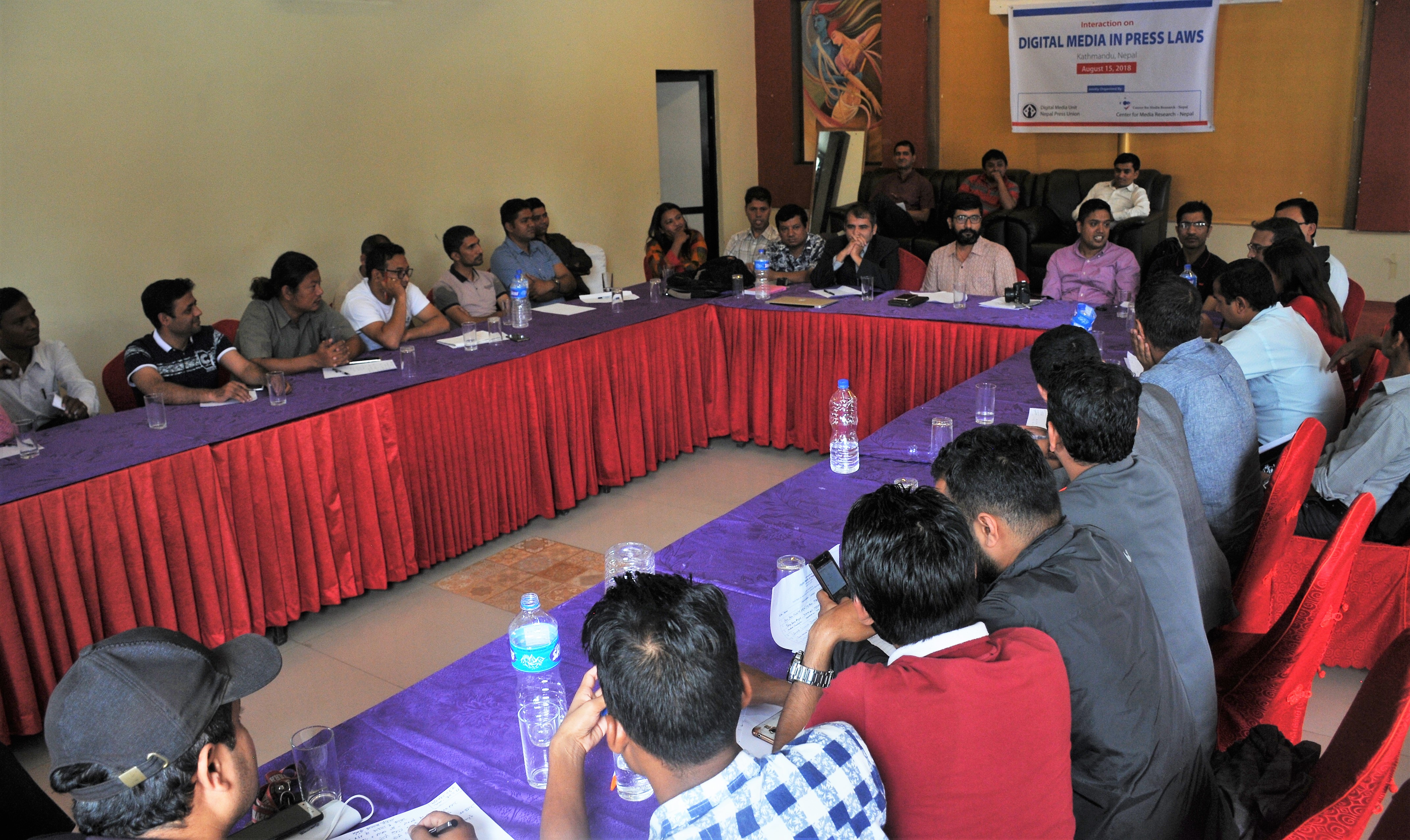 Participants of the program included KP Dhungana, the chairperson of FNJ Associate Province and founder chairman of Online Journalists Association of Nepal, Ajaya Babu Shiwakoti, the NPU general secretary, Ram Prasad Dahal, the secretary of the Federation of Nepali Journalists (FNJ), NPU Secretary Khila Karki, FNJ ExComm member Radheshyam Dahal, CMR-Nepal vice-president Rishikesh Dahal, advocate Babu Ram Aryal, chairman of Online Journalists Association Nepal Shiva Satyal, and coordinator of NPU Digital Media Unit Youbaraj Gautam.
Selected news published in Nepali media about the program: Nagarik daily, Nepal Samacharpatra daily, Rajdhani daily, Himalaya Times daily, Baahrakhari, Pahilopost, Hamrakura, and Clickmandu.