New research report 'Trespassed on Press' released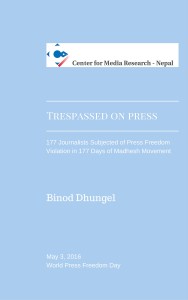 To mark the World Press Freedom Day 2016, the CMR-Nepal released a new report titled 'Trespassed on Press: 177 Journalists Subjected of Press Freedom Violation in 177 Days of Madhesh Movement' by senior research fellow Binod Dhungel.
The report enlists and analyzes incidents of press freedom violations in Terai and elsewhere during the protests from August 16, 2015 to February 12, 2016. During the period, there were mounted aggression agains the media and journalists. The 25-page report also outlines the authorities' attempts to normalize the situation.
The researcher, Binod Dhungel, is a well-known name in Nepali journalism sector. A post-graduate in political science; and mass communication and journalism; and an M.Phil degree in English, Dhungel had a decade-long journalism career having served Radio Nepal, Nepal Samacharpatra daily, Nepal Television and Nepal FM. Since 2004, Dhungel is the Nepal correspondent for Reporters Without Borders (RSF). He has authored and edited various research-based books including "Independent Radio under Royal Regime: Stories of Suppression and Resistance" (2007, Nepali) and "Press Council in Nepal: A research-based Contemporary History" (2012, Nepali).
To download the report, go to the Downloads / Resources page.