Most Nepali internet users are exposed to disinformation, a survey by the Center for Media Research – Nepal (CMR-Nepal) revealed.
The survey results show that 95.5 percent of internet users receive disinformation, largely through social media sites such as YouTube, Facebook and Twitter.
Nepal Twitter Users Survey 2019 was conducted by CMR-Nepal in November 2019 and results are based on 542 valid responses.
"The results have some fascinating, and probably not so surprising, results," says CMR-Nepal chairperson Rishikesh Dahal. "This is very concerning as almost all internet users are exposed to some kind of disinformation."
"This shows there is an urgent need for the stakeholders to devise an effective and multi-layered plan to help citizens distinguish disinformation from valid information."
Social media major source of disinformation
A huge majority of the respondents, 95.5 percent, said they have seen disinformation online in the last seven days. Those who had not seen disinformation online in a week were just a handful.
And, for most of Nepalis, the main platform where they believe say saw disinformation is YouTube. A total of 85.6 percent said they saw disinformation on YouTube.
This validates claims that 'YouTubers' are not only sensationalizing issues but also feeding misguided and fake information to garner more views, thereby earn more.
Facebook and Twitter are not far behind as more than two-thirds said they also saw disinformation on Facebook and more than half saw disinformation on Twitter.
Only 17 percent saw the disinformation on other websites, many of them stating websites like news websites, and very few, less than half-a-percent saw it in newspapers.
There could be a trust factor playing in as people tend to trust newspapers more and probably believe what they see on newspaper are true.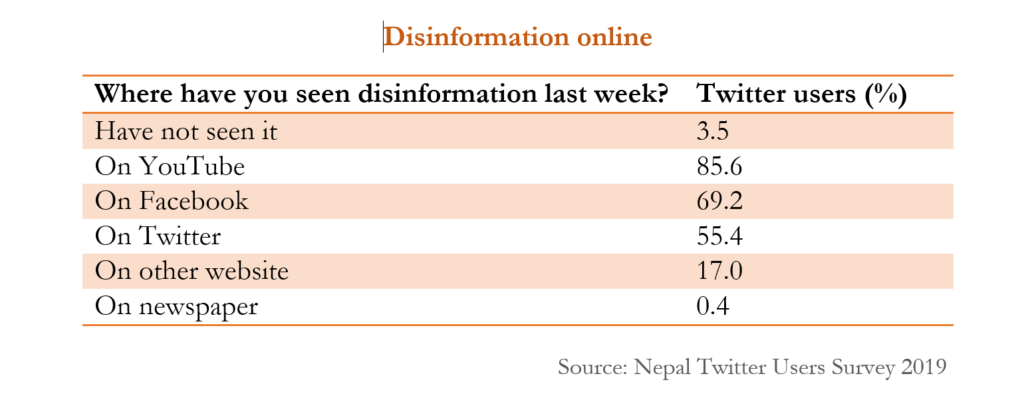 "In Nepal's context, many surveys conducted by various organizations in the past decade showed mainstream media as a most trustworthy institution, up to 90 percent public ranking media as a trustworthy institution," says Tilak Pathak who studies public trust on media.
"It's not that the media does not make mistake. They do make mistakes, but they also correct errors and apologize to the public, thus keeping in the public trust," says Pathak.
"Therefore, even when there is disinformation in mainstream media, the general public trust it and may have not identified them as disinformation."
Disinformation: a problem for society
The respondents were also asked whether disinformation is already a problem or will be a problem for our society.
More than two-third (73.6 percent) Twitter users believe that disinformation is already a problem for our society and politics.
A little more than 12 percent think it will create problems in the future and further 11 percent think it may already have been a problem.
In total, 96.5 percent of them think disinformation is or will be a problem for our society.
Only a very few, 1.6 percent, believe it not a problem now and 1.1 percent believe it will not create a problem in the future. Rest either did not reply to the question or blamed mainstream media for disinformation.
Most Nepali Twitter users (86.5 percent) said they are concerned about fake news, misinformation, and disinformation online. Only five percent said they are not concerned while 8.5 percent were neutral.
Government and media are responsible to tackle disinformation
Most Twitter users put media and government as the most responsible agencies to tackle disinformation online. About 40 percent of all respondents put media on the most responsible side whereas 38 percent put the government on the most responsible side.
About 32 percent considered users as most responsible, whereas 30 percent considered platforms as most responsible.
Those considering civil society as most responsible to tackle disinformation online were 22.5 percent. Some, about 9 percent, considered there are other agencies most responsible. Those also choosing others listed educational institutions, influencers, and fact-checkers.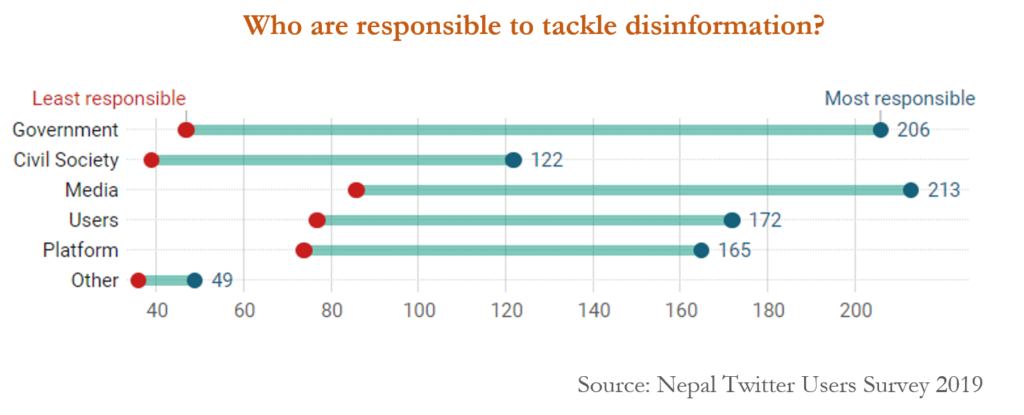 "Fact-checking initiatives are very important in the infodemic era, but equally important are efforts from government, political parties, media, civil society, and society's opinion leaders to spread critical thinking and information literacy among the citizens," said Umesh Shrestha, the editor of NepalFactCheck.org, an initiative of CMR-Nepal.
CMR-Nepal's former chairman Bhuwan KC says disinformation is set to pose a big threat to Nepal's democracy as it could not only impact upcoming elections but also public debate and understanding of political and social issues.
"Unless we devise a concrete and effective plan to tackle disinformation without impacting people's freedom, our democracy could suffer a big blow," KC says.
***
To download the results of the Nepal Twitter Users Survey 2019, click here.